Suffolk pupils 'at risk' at unregistered tuition centres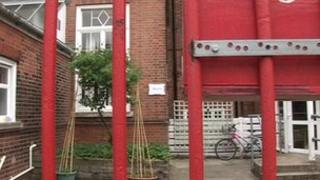 Children excluded from Suffolk schools are being put at risk in unregistered education centres, it is claimed.
Serious incidents, such as a child stamping on another's head and a rope being placed around another's neck, have not been reported, say staff.
Unregistered centres are neither known to, nor inspected by Ofsted, the education watchdog.
Suffolk County Council admits it has nine unregistered centres but denies children there are unsafe.
The authority said all the centres would be registered by October and stated it took the issue of safeguarding extremely seriously.
'Threatened with gun'
In an email seen by the BBC, the Department for Education (DfE) admitted this meant Ofsted had been unable to offer assurance that safeguarding standards were being met.
BBC Look East began investigating after a member of staff at one centre was alleged to have threatened a pupil with a gun in March.
Police investigated and searched the staff member's home, seizing a decommissioned antique weapon.
The member of staff was questioned and given "words of advice" but no further action was taken.
The centre, which cannot be identified for legal reasons, was closed during the investigation but subsequently reopened.
It then emerged other centres in the county had not been registered.
Liberal Democrat councillor Penny Otton of Suffolk County Council's education scrutiny committee, said: "It sounds to me like an absolutely major crisis.
"I cannot believe that... particularly vulnerable children... are in an organisation or provision which is not registered."
Staff and managers, who asked not to be named, said because the centres were not regulated, they were effectively invisible to the authorities, which compromised pupil safety.
A BBC reporter walked unchallenged into three of the unregistered centres, including a makeshift classroom hired for the day.
'Unsuitable and unsafe'
She witnessed staff attempting to pacify an angry teenager who was throwing furniture and shouting: "The council have messed me about. My school messes me about."
When police arrived the boy was full of remorse, saying that all he wanted was a good education and a bright future.
A teacher at one centre said: "Children are distraught, often by the system that moves them from place to place.
"We all strive to give them an education and the common phrase is 'the forgotten children of Suffolk'."
Staff complained one building in Sudbury was unsuitable and unsafe for vulnerable children.
One manager, who asked not to be named, said: "You have incidents not being reported - or not being reported properly - at different sites every day.
"There are centres that are not managed properly because people have not got the qualifications or experience to deal with that.
"They're occurring in centres that are not registered."
'Don't rock boat'
A child at one of the centres said: "It just doesn't feel like a safe place, and it's a bad place because you're not getting a proper education."
The National Union of Teachers (NUT) has written to the council, saying there was a "lack of clear lines of accountability and reporting in safeguarding".
It said there was a perception "that management does not want to know about such disclosures and those who do pass on information... quickly learn to keep quiet... not to rock the boat".
Graham White, secretary of the Suffolk branch of the NUT said: "I think there is evidence that Suffolk is not doing as much as it could do to protect the safeguarding of both pupils and of staff."
In a statement the council said its legal advice was that guidance on the registration of tuition centres was not clear.
It said some of the previously unregistered centres had now been registered, and that it had a plan in place to register all of them by 1 October.
It was confident it had fulfilled its statutory duties regarding safeguarding of children, it said.
In a statement, the DfE said it expected to be notified in all cases when a council set up, made changes or closed a tuition centre.
"Ofsted will then be made aware of all provision which is subject to an inspection," it said.
Suffolk was "on track" with its action plan to notify the DfE of all provision for education other than in school (EOTAS), it added.