Highpoint Prison opens new training centre for inmates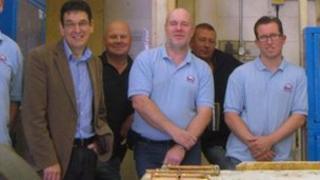 A Suffolk prison has opened a new vocational training centre, which can teach job skills to twice as many inmates as the old one.
HMP Highpoint, near Haverhill, has built a unit at its northern site focusing on bricklaying, plumbing, kitchen-fitting and IT skills.
The prison said it could train up to 120 inmates at once, compared with 54 at the old facilities.
Highpoint said the new centre should improve levels of rehabilitation.
The prison's education department said vocational skills were taught towards the last 6-12 months of a sentence.
'Communities safer'
The jail is a category C training prison which has a capacity for 1,323 inmates.
Steve Phillips, Highpoint's head of reducing re-offending, said: "Staff and prisoners who have developed the centre over the last five months will have contributed towards making our communities safer in the future."
Colin Spittle-Green, a senior tutor, said: "I am over-the-moon with the Streetworks [roadworks] course I do and I've been able to find full-time work for 53 offenders in the past two years, so the success rate for reducing re-offending is A1 and it is working."
HMP Highpoint said in June 67% of offenders released from jail found jobs or enrolled on educational courses.