Only Fools and Horses tribute at Ray Butt's funeral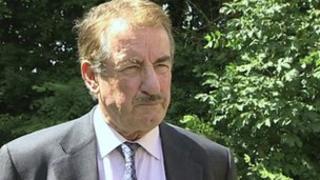 Actors from Only Fools and Horses have paid tribute to the show's original producer Ray Butt, whose funeral has taken place in Suffolk.
Butt, who developed the hit television show alongside writer John Sullivan, died on 12 July, aged 78.
Speaking at his funeral in Ashbocking, John Challis, who played Boycie, said Butt was instrumental in getting the show on air in 1981.
"Here we are 32 years later and it's still on. It's all because of him."
Butt is credited with casting Sir David Jason as Derek 'Del Boy' Trotter, who along with his brother Rodney came up with numerous money-making schemes during the show's seven series.
Sir David, who could not attend the funeral, wrote to Butt's partner Jo Blyth.
"What a sad blow it was to read of Ray's passing," Sir David wrote. "He was such a great character and one I shall never forget."
Butt also directed episodes of Are You Being Served?, Last of the Summer Wine and Citizen Smith.
Gareth Gwenlan, former head of BBC comedy, said: "It is a mark of a man and the affection in which he is held that we are all here today to honour his memory and offer a final salute to a gifted director and a unique character.
"If he is looking down on us he's probably thinking, blimey haven't they got anything better to do on a Monday?"