Woodbridge boatyard plan in Suffolk sets sail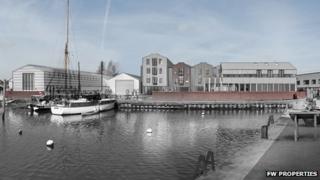 Plans to turn a derelict Suffolk boatyard into shops, holiday homes and a museum have been given the go-ahead.
The £8m redevelopment of Whisstocks and Nunn's Mill in Woodbridge was approved by Suffolk Coastal District Council on Thursday.
The site, which has been vacant for more than 20 years, will also see a boatbuilding yard and restaurant built.
Work is expected to begin by the end of the year and be completed by spring 2015.
Geoff Holdcroft, cabinet member for economic development and leisure at Suffolk Coastal District Council, said: "It's much overdue. The development really will enhance the town and give it prosperity for the future.
"One thing is to try and link the town with the river, which is something that's tried to be achieved over a number of years."
Some letters of objection were submitted to the council during the planning process, expressing concerns about the site being too commercially-focussed.