Ipswich Old Cattle Market bus station revamp delayed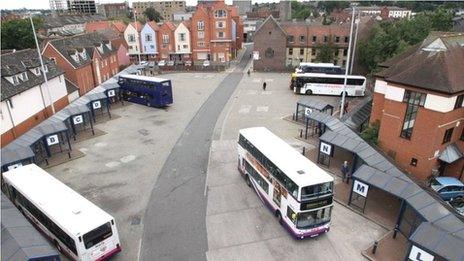 Work on a £700,000 revamp of a major bus terminal in Ipswich must be completed by mid-November despite delays, Suffolk County Council says.
Improvements to bus stations at the Old Cattle Market and Tower Ramparts have been hit by delays caused by underground utilities, a report says.
But Skanska Construction has been told work must intensify work to prevent disruption to Christmas shoppers.
It means Tower Ramparts will be closed from early September.
Both bus stations should be operational by 15 November, the council said.
Although improvement to the Tower Ramparts station started on time, they had been due to carry on into the spring. The Old Cattle Market revamp should have finished this month.
Cabinet member for transport Graham Newman said: "We recognise that the run up to Christmas is one of the most important periods for Ipswich businesses.
"We've therefore reviewed the works being carried out at the bus stations and have asked our contractor to accelerate their programme.
"Of course, this means that we will have to close Tower Ramparts bus station from early September, however provision has been made to relocate bus stops around the town centre.
"We apologise for the inconvenience that this will cause however we feel it is essential that we complete these works so that Ipswich can enjoy the Christmas period without the disruption of roadworks."
Despite the acceleration of work to the bus stations, a wider £21m scheme to improve travel in Ipswich will be suspended leading up to Christmas.
Travel scheme work will be suspended from 15 November until the first week of January 2014 to ensure roadworks do not hold up traffic.
Related Internet Links
The BBC is not responsible for the content of external sites.