Arrest in Suffolk over body with stab wounds found in garden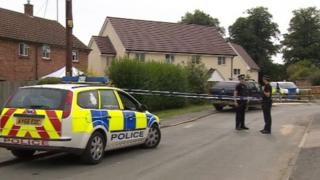 A 44-year-old man has been arrested on suspicion of murder after a body with stab wounds was found in a garden in Suffolk.
Police were called to an address at Brooksfield in Bildeston at 04:15 BST on Sunday and Brian Knock, 38, was later pronounced dead at the scene.
The arrested man is being questioned by detectives at a police station in Bury St Edmunds.
The surrounding road has been closed off for an investigation, police said.
A post-mortem examination carried out at Ipswich Hospital revealed Mr Knock had multiple stab wounds.
He had been staying with a relative.
The two men knew each other but were not related, a police spokesman said.
"Inquiries are continuing at the scene to determine exactly what happened and a number of people have come forward to provide information that may help the investigation.
"Police are reassuring residents that this appears to have been an isolated incident and are thanking all those who have been in contact."