Ipswich railway station climber Mantas Badauskas jailed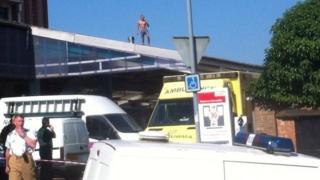 A Lithuanian man, who disrupted train services across East Anglia by climbing onto the roof of Ipswich railway station, has been jailed for 16 months.
Mantas Badauskas, 26, of no fixed abode, remained on the roof for more than six hours on 19 July while the station's power was turned off.
The judge at Ipswich Crown Court described his actions as "attention-seeking and utterly self-indulgent".
He admitted causing obstruction without intent at an earlier hearing.
The prosecution told the court that Badauskas had earlier asked a police officer how he could get to Stansted Airport, but then climbed onto the canopy roof of Platform 1 at 08:30 BST.
Train operators said the power had to be turned off because the structure was not designed to support a man's weight and there was a threat to the electric cables below.
40,000 journeys
The fire service put a ladder up to him about half an hour after he ascended the building, but Badauskas pulled it up onto the roof.
The prosecution said police negotiators did not persuade him to come down until 15:09, after which he was taken to Ipswich Hospital to be treated for dehydration.
The court heard that 76 trains services were cancelled which affected 40,000 passengers and cost an estimated £1m.
Three trains were stuck on the tracks without power, which meant no air-conditioning or refreshments for passengers on what was a hot day.
In mitigation, Badauskas's defence said he had arrived in the UK that week and had been expecting to start factory work straight away.
But he lost touch with the friend who had met him at Stansted and subsequently lost his possessions and had little or no money.
'Massive disruption'
He wanted to get back to Lithuania, where he had a wife and child, and climbed onto the roof to because he "wanted better visibility", it was claimed.
Sentencing him, Judge John Devaux said: "Whatever you were hoping to achieve, it was wholly disproportionate to your predicament.
"It caused massive disruption to the public and cost organisations and individuals a massive amount of money.
"It was attention-seeking and self-indulgent."