Ipswich park meat cleaver attack robber jailed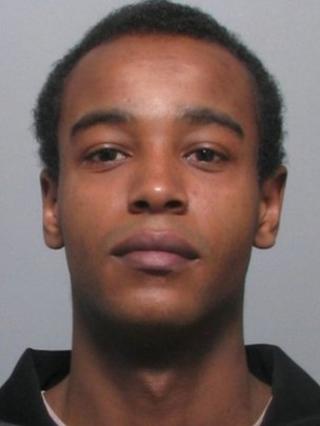 A man armed with a meat cleaver who robbed a mother walking with her two young children in Suffolk has been jailed for three years and four months.
Joshua Potkins, 21, of Cromwell Square, Ipswich, admitted robbery and possession of an offensive weapon.
Ipswich Crown Court heard Potkins approached a 38-year-old woman in the town's Christchurch Park on Saturday 25 May near to the bowling green.
She was head butted and hit before handing over her purse containing £25.
Potkins was arrested three days later and charged on 21 August. He was sentenced on Wednesday.
The victim, with children aged one and three, initially refused to hand over her purse, the court heard.
After sentencing Det Insp Eamonn Bridger said: "This was a particularly distressing attack on the victim in front of her two young children.
"She has been incredibly strong throughout and was able to give us a detailed description of Potkins, which enabled us to capture nearby images of him visiting Christchurch Mansion just before the attack took place.
"The CCTV images, together with a detailed description and statement given to us by the victim led us to the quick arrest of Potkins.
"To attack a female in broad daylight whilst walking with a toddler and pushing a push chair through a tranquil park and then threaten her with a meat cleaver is an appalling, cowardly crime."