HMP Blundeston: Inspectors' concerns over closing jail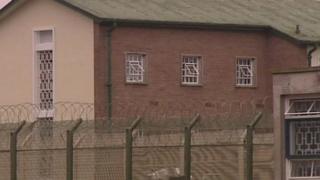 A Suffolk jail which is due to close still presents "significant concerns", inspectors have said.
They said HMP Blundeston, near Lowestoft, had made some improvements since its last inspection in 2011 but still had problems with bullying.
Inspectors were also concerned by health care and sanitation provision at night.
The prison service said the report highlighted why a decision had been made to close the jail.
Following the inspection in April, HM Inspectorate of Prisons said the jail was safer than it was two years ago and rehabilitation work had improved.
'Not acceptable'
However, the report said there were still bullying problems over debts and thefts of medicines.
Nick Hardwick, chief inspector of prisons, said: "There were no toilets in cells which meant prisoners had to ring a bell and be let out one-by-one or use a bucket or even bottles and chuck it out of the window.
"That was not acceptable in this day and age.
"It'll take some time to close the prison and some stuff needs to be addressed in the short term."
Speaking on behalf of HM Prison Service, Michael Spurr, chief executive officer of the National Offender Management Service, said the report highlighted "the poor state of much of the accommodation".
"The decision to close the prison is part of our wider strategy to modernise the estate and is not a reflection of the excellent work by staff," he said.
"We will continue to ensure Blundeston operates safely and securely in the run up to its closure."
NHS East Coast Community Healthcare said improvements had been made since it took over health provision in 2011.
A spokesperson said: "We have put right most of those issues which are in our control.
"We refute that health care is very poor or that prisoners' health is seriously compromised."