Bury St Edmunds football stadium plan falls through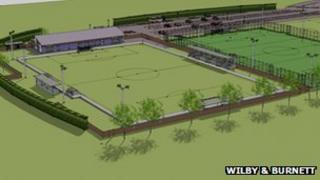 A £2.5m project to provide sports facilities in Bury St Edmunds, including a new stadium for the local football club, has fallen through because of funding issues.
The project would have a provided a new base for Bury Town Football Club.
St Edmundsbury council and other groups raised £2.5m, a few hundred thousand pounds below the funding required.
The project is now looking at linking the plan to proposals for a new high school on the Moreton Hall site.
The partners who are funding the project are Bury Town Football Club, which plans to move from its Ram Meadow site, the Football Foundation, Football Stadia Improvement Fund, St Edmundsbury Borough Council and Suffolk Football Association.
'Real opportunity'
Recently the partnership received tenders for the work but all proved to be significantly higher than the funding currently available.
St Edmundsbury councillor Sara Mildmay-White, cabinet member for health, wellbeing and sport, said the failure to raise the funds provided a "real opportunity to look at shared options for the site through co-operation with the proposed new school".
"I think the end result could be something really exciting and innovative and meanwhile we'll make sure the football club has the support it needs at Ram Meadow."
Phil Smailes, vice chairman of Bury Town Football Club, said: "It is really unfortunate that we haven't been able to get all the money together for the community football project and the club's relocation.
"However it is great news that the council will help us in the meantime at Ram Meadow while we develop our options for the new ground and we know the council is supporting us through discussions with the league."
The Football Foundation has said it remains supportive of the scheme and is keen to remain involved in its development. A new funding application to the Football Foundation would need to be made by the partners once designs were finalised.