Ipswich's 'Boris Bikes' town centre and waterfront plan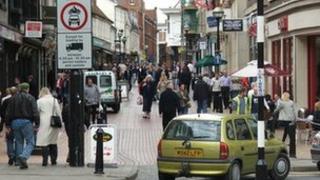 An Ipswich business group is looking at introducing "Boris Bikes" to improve links between the town centre and waterfront.
Ipswich Central was looking to use some of a £168,000 X-Fund award from the government to set up a bike rental scheme, similar to one set up in London by Mayor Boris Johnson.
A private firm would then be used to operate the scheme.
The idea is part of Ipswich Central's Focusing Future Investment plan.
The plan aims to develop the area between the main shopping centre and the waterfront to increase the number of people who visit both.
'Unique selling point'
Paul Clement, chief executive of Ipswich Central, which represents 700 businesses, said: "This new vision is about creating those linkage areas.
"It's not that easy to travel between the two, but if you put bus and parking routes in, maybe even a new 'Boris Bike' scheme, then people will start to move between the two.
"We're not saying move everything down to the waterfront, but town centres are changing and you've got to look at what the unique selling point is, and there's no doubt that for Ipswich it is that waterfront."
Ipswich Central said it needed partners including local authorities as well as private investors to get the bike scheme running.
It was already committed to operating the shuttle bus which is currently run by Suffolk County Council, but it would be making extra stops near the waterfront when it takes the service over in April.
In Boris Johnson's Barclays Cycle Hire scheme there are more than 8,000 bikes available at 570 docking stations throughout central and east London.