Councils in Suffolk 'facing £62m grant cuts'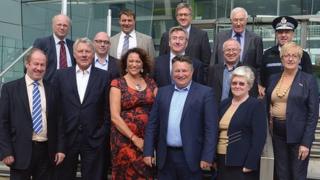 Suffolk councils are facing cuts in government grants of £62.7m over the next two years, it has been revealed.
Between April 2014 and March 2016 councils in the county are facing cuts of up to 49%, according to figures released by a coalition of councils.
The largest, Suffolk County Council, with a £500m budget, is facing a £50m grant cut (37%).
Forest Heath, Ipswich and Waveney councils could see their grants cut by 49%.
The county council and the seven district and borough authorities met with Suffolk's police and crime commissioner and chief constable to discuss the estimated cuts, which they say are based on a consultation being run by the government.
Mark Bee, leader of the Conservative-run county council, said: "It's important that we do not underestimate the scale of the financial challenge facing local government in the next two years.
"But that doesn't mean that there aren't things that we can do, together, to help manage the challenge.
"Local government needs to lead by example and find ways of working together to make the savings that are needed."
A spokesman for the councils said, in total, a 39% cut in government funding was expected.
He said if the costs associated with increasing demand for services, inflation and an additional two years of government austerity cuts (2016-2018) were taken into account, more than £160m would need to be saved.
The council and police representatives who met in Ipswich agreed to call on Suffolk's MPs to raise the implications of the funding cuts with communities secretary Eric Pickles.
The spokesman said it expected the exact settlement figures to be announced in December.