HMP Blundeston: Closure "ill-conceived" says monitoring board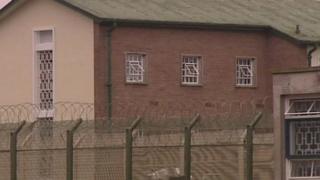 Plans to close a Suffolk prison are "ill-conceived", according to a monitoring watchdog.
The government has announced HMP Blundeston, near Lowestoft, will close by the end of the year as part of national prison reorganisation.
The jail's Independent Monitoring Board (IMD) called the decision "premature" and highlighted Blundeston's "excellent" prisoner-staff relations.
The government said the decision was not based on current performance.
Earlier this month, the Ministry of Justice said Blundeston would be one of four jails to close, while a new £250m "super-prison" would be built in Wales.
'Thorough assessment'
In a public letter the IMD said: "Blundeston prison has many qualities which make its closure ill-conceived, premature and rushed.
"Report after report has highlighted the excellent and unique staff-prisoner relationship which, above any other thing, works towards rehabilitation - an expressed government policy and intention.
"However marvellous electronically any new super-prison is, we doubt that it would be able to produce such a relationship as the one Blundeston has built up over many years."
The letter was also critical of recent spending on a new electronic key-issuing system, new heating system and prison workshops, which was now "wasted".
The IMD concluded that while it would be "delighted" if the decision was reversed, such an event was "unlikely".
A Prison Service spokesperson said: "The decision to close HMP Blundeston was made following a thorough assessment by the National Offender Management Service and it was based on a range of factors, including the suitability of the accommodation, and was not a reflection of the current performance of the prison or its staff."