Care home nurse Sharon Fairweather guilty of misconduct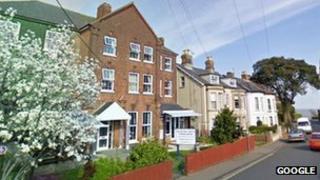 A Suffolk care home nurse has been found to have treated three elderly residents inappropriately or unprofessionally.
Sharon Fairweather was accused of misconduct when working at the Highcliffe House Nursing Home, Felixstowe.
The charges included making aggressive statements to residents and relatives.
The Nursing and Midwifery Council (NMC) has issued an interim order while it decides on further action.
The charges related to incidents at the home for elderly residents, many of whom had dementia.
The NMC hearing in London was told that when the wife of one resident asked about intravenous fluids, the nurse said "we do not do drips" in a harsh manner. She later said: "Do you want him to go back to Ipswich Hospital?"
'Bossy relatives'
Another resident asked if she could see her daughter and was told: "I'd like to go home, but that isn't going to happen, is it?".
When asked for the whereabouts of the toilet, the hearing was told Ms Fairweather replied: "You know where it is."
The nurse also said "I am fed up with bossy relatives" in earshot of the daughter, the hearing was told. In response to an enquiry from one relative, she replied: "I am too busy caring for really ill residents to know what is wrong with your mother."
A third resident was forcefully grabbed by the arm and pulled out of the kitchen.
Three charges relating to a fourth resident were found to be not proven.
Ms Fairweather did not appear at the hearing, but wrote to claim she had been bullied and victimised and that there had been collusion between the witnesses.
The NMC concluded that the witnesses, some of whom worked at the home, were credible.
The council will meet again in January to decide if their findings meant any sanctions should be imposed on Ms Fairweather.
The nurse resigned from the care home in February 2012.
After finding her guilty, the NMC issued an interim order relating to Ms Fairweather's current employment at Montague Road Nursing Home in Felixstowe.
A spokesperson for Sanctuary, which runs the home, said Ms Fairweather was employed as relief cover for sickness and holidays and it was working with the authorities to ensure the interim order was followed.