Hollesley Bay Prison: Absconding pair prompt safety fears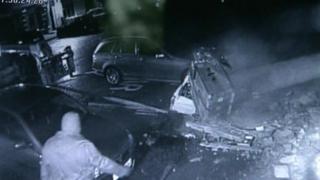 A bank raider's disappearance from an open prison, three months into a five-year sentence, shows failings putting the "public at risk", it is claimed.
Kevin Smith, 29, from Spalding, in Lincolnshire, was one of two men who absconded from category D Hollesley Bay Prison in Suffolk on Monday.
Glyn Travis, of the Prison Officers' Association, said dangerous offenders were being sent to the jail too early.
The Prison Service said open prisoners were "rigorously risk assessed".
Suffolk Police are still looking for Smith, who was sent to Hollesley Bay in July after being sentenced to five years and three months in prison.
'Tick-box mentality'
He was part of a four-man gang jailed for stealing a cash machine with £34,000 inside from Kimbolton, Cambridgeshire in September 2012.
Mr Travis, assistant secretary of the association, said: "Smith certainly shouldn't have been in an open prison so early in his sentence.
"This is a common problem and the general public will not realise the type of inmates being sent to open prisons because of prison overcrowding and the need to save money."
Gregory Dennett, 43, disappeared on the same day as Smith and was still on the run on Thursday.
He was serving a life sentence for wounding with intent to commit grievous bodily harm. He had been given resettlement leave at an address in Luton, Bedfordshire, but failed to return to the prison.
"Unfortunately you're finding people with dangerous violent histories are being sent to open prisons far too early, and as a result fail to return from temporary release, or simply walk out of open jail and therefore put the public at risk," Mr Travis said.
"People who go to Hollesley Bay should be the type that people trust to work in the community."
The Ministry of Justice said between March 2012 and March 2013, eight prisoners absconded from Hollesley Bay.
A Prison Service spokesman said: "The number of absconds from open prisons in 2012/13 was the second lowest since records began, and all those located in open prisons have been rigorously risk assessed and deemed suitable for open conditions.
"Anyone who does abscond will be returned to a closed prison and may face further criminal charges."
Mr Travis added: "The system is at fault unfortunately, and we've been saying for many years that the tick-box mentality of the allocation system no longer does the rigorous test that the prisons minister says is in place.
"It needs to be challenged and it needs to be tested."