HMP Blundeston inmate in human rights bid to keep jail open
By Sally Chidzoy and Nic Rigby
BBC News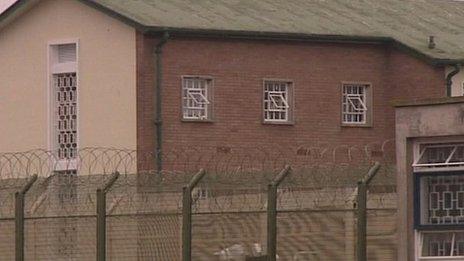 Closing a Suffolk prison will breach an inmate's human rights, lawyers have told the government.
The legal team alleges the therapy he is receiving at HMP Blundeston, to help him avoid re-offending on release, would be disrupted.
In September, the Ministry of Justice said the prison, near Lowestoft, was set to close by the end of the year.
Lawyers have written to the ministry to criticise the plan, which they said was decided without consultation.
The letter, written by EBR Attridge solicitors and seen by the BBC, also says there was no assessment carried out on the impact of closure.
The letter argues that as well as breaching the Human Rights Act, it was "in breach of our client's legitimate expectation that on commencing his treatment at HMP Blundeston, he would be given the chance to complete it".
Barrister Lorna Elliott argues the government is breaking the law if it does not allow a prisoner to complete his therapy to show he is no longer a danger to the public and can be released.
The letter adds the prisoner has been receiving therapy for 13 months and that research has found that inmates who stay in therapy for longer than 18 months are found to have a 25% reduction in the risk of reoffending.
Ms Elliott says: "The closure of HMP Blundeston will constitute a total destruction of its therapeutic community and will have a destructive and detrimental effect on the prisoners undergoing therapy."
She adds that millions of pounds have been spent on the prison in recent years.
Ms Elliott says the next step could be to seek a judicial review of the decision in the High Court.
Ms Elliott would not say whether the case was being funded by legal aid.
A Prison Service spokesperson said it would not comment on any possible legal action.
She added: "The decision to close HMP Blundeston was made following a thorough assessment by senior managers in the National Offender Management Service.
"It was based on a range of factors, including the suitability of the accommodation, and was not a reflection of the current performance of the prison or its staff.
"We need a fit-for-purpose, modern estate which provides prison accommodation at a much lower cost to the taxpayer and in the right places to deliver our ambition of reducing reoffending.
"Our aim will be to avoid compulsory redundancies by firstly redeploying staff and, if necessary, offering voluntary early departures to staff in affected sites and neighbouring establishments."
The jail is set to close in December.
Related Internet Links
The BBC is not responsible for the content of external sites.