Elderly woman run over by own car in 'freak accident'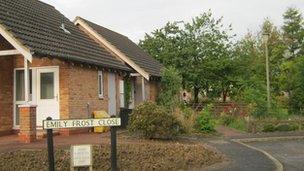 An elderly woman has been run over by her own car in a "freak accident" in a Suffolk village.
Susan Tovey, 74, died after being hit by her Ford Fiesta outside her home on Emily Frost Close in Wickhambrook at about 19:00 BST on Wednesday.
She had got out of the automatic car to allow neighbour Ray Featherstone, 72, to release her handbrake for her.
Mr Featherstone said the car had then shot backwards and hit her. Police said investigations were continuing.
The 72-year-old said he had gone to help Ms Tovey move her car and had asked her to get out so he could reach the handbrake.
He said the car had been in gear and started moving backwards, dragging him with it and hitting Ms Tovey.
The 74-year-old was pronounced dead at the scene by paramedics.
Mr Featherstone was left with minor injuries, including a cut to his head which required stitches.
He said that "when the police told me she passed away, I couldn't believe it".
"You don't expect to go out there and try and help with the car and that happens - it just doesn't seem logical."
Mr Featherstone said he had spoken to Ms Tovey's son, who was told by police that it had been "a freak accident".
"He shook my hand and it made me feel good because he didn't blame me," he said.
Related Internet Links
The BBC is not responsible for the content of external sites.