Paul Mason: Surgery offer for ex-'world's fattest man'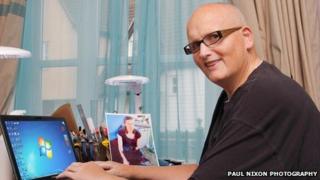 A plastic surgeon in the US has offered to operate on a British man once dubbed the world's fattest.
At his heaviest, Paul Mason weighed 70 stone (444kg) and was bed bound at his bungalow in Ipswich, Suffolk.
He now weighs about 24 stone (152kg) after gastric bypass surgery in 2010 but says his life is being hampered by a huge amount of excess skin.
New York-based surgeon Dr Jennifer Capla said she was willing to donate her time to help Mr Mason.
In May, Mr Mason, 52, released photographs of his naked body as part of his plea for medical help.
'High-risk patient'
Mr Mason said he had begun trying to raise the money to pay for flights and a hospital stay in order to take advantage of Dr Capla's offer.
Dr Capla told BBC Radio Suffolk she had read about Mr Mason and his weight loss in the New York Times.
"He is a high-risk patient and he has a lot of medical issues that we need to sort through," she said.
"However, he's a great candidate for this skin removal surgery.
"He has lost over 600lbs (272kg) and he should be very functional and mobile and should be able to live his life but he's still wheelchair-bound because he has all this excess skin.
"Helping him get his life back is really the goal."
Dr Capla said she specialised in "post-bariatric body contouring" but that although she had treated patients who lost up to 200lbs (90kg), she had never treated anyone who had lost as much weight as Mr Mason.
"The skin is the same in terms of looseness and the areas of target so it's an area I'm very familiar with," she said.
'A normal life'
Mr Mason said he had "things in motion" to raise the money needed.
"All I've got to cover is the medication, the stay in hospital and the flights," he said.
Mr Mason has not been able to have the surgery on the NHS because his weight has not been stable.
He said an operation to remove excess skin around his middle would make a huge difference.
"I would be able to mobilise and lead a reasonably normal life, then have my arms and legs done," he said.
"Five years down the road it would possibly have to be repeated because by then I should be at my goal weight and the excess skin I would have then would still need removing because of the extreme size I was in the first place."
A spokesman for the NHS Ipswich and East Suffolk Clinical Commissioning Group said: "Before a patient has an operation it is important to take a balanced decision that is in the best interest of that patient.
"In cases like this the NHS has a panel of people - including clinicians - who decide whether the patient should have such an operation. A patient must have a stable weight before he or she is considered."