Pliosaur bone found in Tuddenham St Martin garden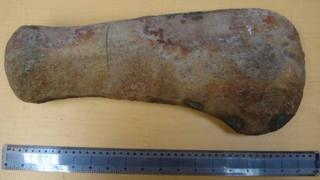 A bone found in a garden in Suffolk belongs to what has been described as "the scariest animal that has ever lived in the sea", tests have revealed.
Retired banker John Lambert found the fossil in his garden 16 years ago but only recently had it examined.
It has been identified as a limb bone from a pliosaur, that lived between 60 and 250 million years ago.
The Marine reptile is said to have had the "strongest bite of any animal in the world".
Mr Lambert said builders found the bone when they were digging a foundation trench for a wall in his Tuddenham St Martin garden in 1997.
"I put it in my workshop to examine more closely, then forgot about it," he said.
"Then last month, for no particular reason, I remembered it and took it to Ipswich Museum for identification."
He said the bone weighed 7kg (15lb) and was 42cm (16.5ins) long and 18cm (7ins) at its widest point.
Ann Ainsworth, assistant curator of natural history at the Colchester and Ipswich Museum service, said it was "a really lovely fossil".
She said the group of animals "had a long, streamlined body with a short, tapering tail relatively long neck and four paddle-like limbs".
Ms Ainsworth said that some species in the pliosaur group could grow up to 20m (65ft) long and had sharp, pointed teeth.
"Marine reptiles are not animals you would expect to find as fossils in Suffolk as the local rocks are not the right age," she said.
"It could have been collected by someone else previously and left in the garden."
Ms Ainsworth added it could have come from glacial clays found in the county which were deposited by large ice sheets from northern and western Britain.
"Large reptiles remains are found in rocks around Peterborough and further north towards north-east Yorkshire," she said.
Mr Lambert said he would keep the fossil for a while as it would bring visitors into his eight-acre garden that he opens every year for charity.
"We plan to open again in 2014 where one, if not two, old fossils will be in attendance."
In 2009. a pliosaur skull was dug up on the Dorset coast.
Richard Edmonds, a Jurassic Coast geologist said it had "eye sockets the size of water melons" and "the strongest bite of any animal in the world."
The creature was "the scariest animal that has ever lived in the sea in all time," he said.