Fears alleged UK hacker Lauri Love could face US extradition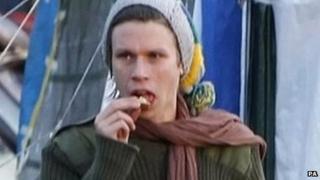 A mother who fought to prevent her son being extradited to the US has given her support to a campaign for a British man arrested on suspicion of hacking into US military computers.
Lauri Love, 28, of Stradishall in Suffolk, was arrested last week over charges in America.
A campaign has been started to fight any possible extradition bid by the US.
Julia O'Dwyer, whose son Richard fought extradition to the US, told the BBC she was supporting the campaign.
Mr O'Dwyer, 24, with his mother's support, fought a two-year battle against extradition to the US over website copyright charges.
The case was eventually settled with Mr O'Dwyer, from Sheffield, signing a deferred prosecution agreement, in which he said he would not break any US laws.
'Same old story'
Mrs O'Dwyer said she believes alleged wrongdoing by British citizens should be dealt with in British courts.
"This case is the same old story of America trying to police people not in their country," she said.
"If someone has done something wrong they should be prosecuted here."
She said she was offering her support to the No Love for the US Government (NoLove4US), set up after Mr Love was arrested last week.
He has been released on bail until February and although the US government has not yet sought extradition, Mrs O'Dwyer and campaigners believe it is the obvious next step.
'Holding it together'
A spokesman for NoLove4US, who is a long time friend of Mr Love, said the campaign had "received support from all over the UK and the support from Julia has been just brilliant".
He said Mr Love had been "in a bad place" but was now "holding it together".
"He was really very shocked," the friend added.
He said the organisation had a Facebook page and had started an online petition against any possible extradition moves.
Mr Love is accused of working with at least three others, who have not been named.
The suspected hackers allegedly placed "back doors", or code, to allow them to get back into the computer systems later to steal confidential information.
He is charged in New Jersey with breaching the security of military, Nasa and Environmental Protection Agency computers.
And in Eastern Virginia he has been charged with hacking FBI forensic laboratory computers and computers belonging to the US Department of Energy.
The US Department of Justice (DoJ) at Eastern Virginia says Mr Love faces up to 10 years in jail if convicted of all the charges.
The DoJ said it had no comment to make on Mrs O'Dwyer's concerns.