Benjamin Britten centenary: Suffolk landscape's inspiration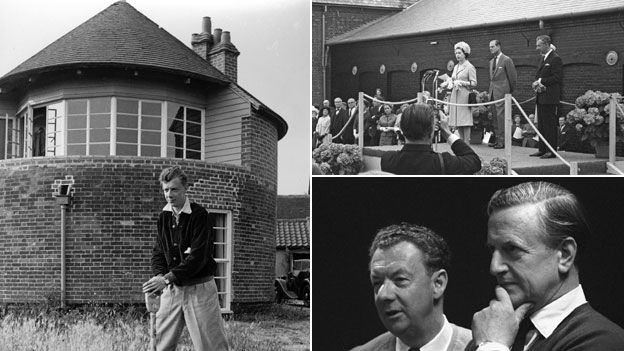 More than 100,000 young people across the world from San Diego to South Korea, will sing Benjamin Britten's work Friday Afternoons as the composer's 100th birthday is celebrated.
The songs are dedicated to Britten's brother Robert, and to the boys of Clive House preparatory school in Prestatyn, Wales, where Robert Britten was a schoolmaster - a school in which choir practice and singing lessons regularly took place on a Friday afternoon.
The international singing project is just one of the events taking place over the weekend to mark the centenary of Britten's birth in Lowestoft, Suffolk, on 22 November 1913.
It was the Suffolk coast with its timeless landscape and big skies that inspired so much of Britten's work.
Many of his greatest compositions reflected locations in the area - the Church Parables written for the church in Orford, Peter Grimes set in Aldeburgh, Let's Make an Opera set in the village of Iken and Albert Herring in the imaginary town of 'Loxford', a reference to Yoxford.
"Suffolk, with its rolling, intimate countryside; its heavenly Gothic churches, big and small; its marshes, with those wild sea-birds; its grand ports and its little fishing villages. I am firmly rooted in this glorious county," said Britten in 1951.
"I treasure these roots, my Suffolk roots; roots are especially valuable nowadays, when so much we love is disappearing or being threatened, when there is so little to cling to.'
And Britten is firmly in evidence around Aldeburgh, where he lived and worked for 20 years, and died in 1976.
The Red House, which he shared with his partner, tenor Peter Pears, is now home to the Britten-Pears Foundation as a museum and exhibition centre, which houses a new archive of Britten's entire works.
Richard Jarman, director of the foundation, says Britten's legacy is "a history that is living now, and that's what we're trying to keep here."
"We look after the house in which Britten lived for 20 years, and we want people to come here to experience the place in which he lived and worked and created so much music," he said.
"He said time and time again he wanted his music to be useful, he wanted people to listen to it - he didn't think a composer should be in an ivory tower."
Mr Jarman says the foundation gives out grants to community projects - from refurbishing the Jubilee Hall to building a school music room. The money for that comes from royalties from the composer's works performed all over the world.
In Aldeburgh's Moot Hall, built in 1540 and one of the longest continual seats of civic government in the country, there is a picture of Britten receiving the freedom of the town.
A short walk along the beach is Maggi Hambling's giant metal Scallop sculpture, which was unveiled in 2003.
Cut into the top edge are words from Britten's opera, Peter Grimes: "I hear those voices that will not be drowned".
Ms Hambling says the sculpture is "an eyesore" to some people, but for others it is "an icon".
She says: "It had been in the newspapers that Aldeburgh did not want a statue of its most famous son and that made me angry.
"I thought 'I'll do one', and so, unlike most public sculptures, the scallop was most certainly not commissioned."
In June this year, Peter Grimes was staged to great acclaim on Aldeburgh beach.
Simon Reid, who was involved in the production, accepted not everyone likes Britten's music.
"They find it too cacophonous," he said. "But the community came together and it was a real event."
Britten's legacy extends beyond Aldeburgh, to other parts of the county.
He founded the annual music festival at the church in Snape in 1948, and in 1965 came up with the idea of using one of the old maltings buildings in the village as a concert hall.
Back in Lowestoft, where he was born the son of a dentist, the high school is named after him.
His childhood home, 21 Kirkley Cliff Road - a smart, three-storey house overlooking Lowestoft's South Beach - will be open to the public for this weekend only, and manuscripts Britten wrote here as a boy will be displayed alongside other mementoes.
What would he think about the fuss being made over the centenary?
Mr Jarman thinks he would probably "be a bit embarrassed on the surface, deep down he'd be a little bit thrilled, and deep, deep down I don't think he'd be surprised.
"I think from an early age he had a sense of destiny."
A BBC Radio Suffolk documentary, Britten's People, looking at those in the county whose lives have been influenced by the composer, was broadcast earlier.
Related Internet Links
The BBC is not responsible for the content of external sites.