Ipswich Town splits with ITFC Charitable Trust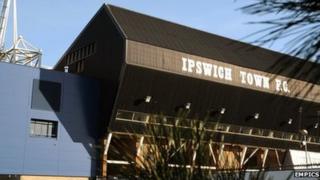 A football fans' group said it feared Ipswich Town was distancing itself from the community after cutting its ties with a charity that bore its name.
The ITFC Charitable Trust has changed its name to Inspire Suffolk and moved from its premises at Portman Road.
Fans' group Ipswich Town Independent Supporters Trust said it was disappointed at the move.
But the club said it was a "natural progression" and that its own charity and community work would continue.
The charity runs courses in football and other sports for young people, and also offers health improvement and educational activities.
'Time was right'
It moved this week to new headquarters in Lindbergh Road, Ipswich.
In a statement, it said the "time was right" to split as the club was announcing a new academy coaching programme.
But Alasdair Ross, chairman of the supporters' trust, said: "Ipswich Town has a proud history of association with its local community, and the ITFC Charitable Trust had been doing great things to keep this going over recent years.
"We're disappointed that the connection between the football club and the charitable trust has been broken."
He asked the club to outline its future community activities, and what plans it had for the charity's former premises by the Portman Road practice pitch.
An Ipswich Town spokesman said its own community activities would continue and that classrooms previously occupied by the charity would now be used by its academy.
'Positive working relationship'
The academy is launching a new advanced coaching programme in January to replace the player development centres run by the charity.
Ipswich Town's joint managing director Ian Milne said: "As well as working on youth development from grassroots up, the club will of course continue to actively support local charities.
"Our players took part in more than 430 hours of charity and community events last season and we're hoping to beat that this year."
He thanked the trust and said the club wished it every success for the future.
Terry Baxter, chief executive of Inspire Suffolk, said it had enjoyed a positive working relationship with Ipswich Town.
"We are continuing our commitment to help inspire, motivate and educate young people using many sports, including football, at our new facility and at centres across the county," he said.