Suffolk floods: Tidal surge 'worse than 1953'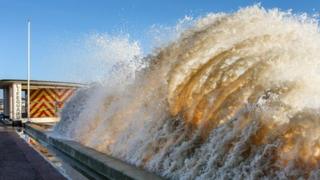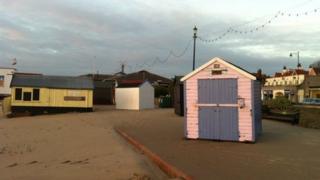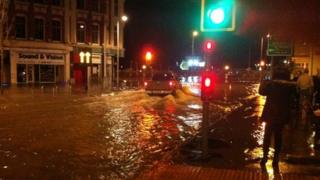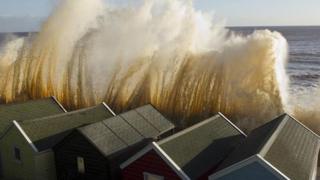 The tidal surge that hit Suffolk on Thursday night was worse than the one that caused fatal floods in 1953, the Environment Agency said.
Flood waters built up in the early hours and remained in Lowestoft, Southwold and Snape - but in Aldeburgh and Ipswich they receded quickly.
Friday's flood warnings along the Suffolk coast were downgraded from severe by the Environment Agency.
Flooded pubs in Southwold and Snape are expected to be closed for days.
Suffolk Police's Assistant Chief Constable Tim Newcombe said: "The comparisons to 1953 are valid, but the big difference is we've had no loss of life and no significant injuries.
"One of the key things we'll be doing is having a full inspection of sea defences to see if they've been damaged and need to be shored up."
Coast 'still unsafe'
The Environment Agency's spokesman Simon Barlow said: "The coast is still a very unsafe place to be and there may still be the opportunity for flood defences to fail and for water to enter land.
"The expectation is that this surge is continuing to drop and by Saturday we will have seen the worst of it."
The Harbour Inn on the River Blyth at Southwold, which has a history of flooding, was under water again.
Nick Attwell, its landlord, spent Thursday moving furniture and equipment out of the pub.
He said: "I've seen it rush in before, but I've never seen it rush in so quickly and it ended up about 5ft (1.5m) off the ground.
"Gas and electrics were all turned off, but we're going to be knee-high in water again with the next tides.
"We're going to have a massive clear-up operation, but one that we're probably not going to start for a couple of days."
Boat washed away
Alister Cruickshank took photographs to the north of Southwold and said Easton Bavents, where houses have been subjected to the ongoing threat of erosion, had lost 7ft (2m) of cliff.
Further down the coast at the mouth of the River Deben, Felixstowe Ferry hamlet was flooded and it caused damage to wooden homes and sheds and scattered debris around.
Steven Reid, assistant harbour master, said: "You can see by the devastation that the Environment Agency got it right, so good on them.
"It's only material damage and that can be replaced and repaired and nobody lost their lives.
"One 20ft (5m) boat, which was resting on the ground, was washed out to sea, but we let it go because there was no danger to life."
Power supplies
Many homes lost electricity after high winds brought down supply cables on Thursday.
UK Power Networks said it had dealt with most of the problems by Friday afternoon.
A spokesperson said: "The electricity network in the East of England remained undamaged by flood waters overnight and there are currently no widespread interruptions to customers' electricity supplies.
"We have been asked to check electrical equipment at up to 200 flooded homes in the Lowestoft area. This is likely to take several days to gain safe access."
Bridge Road at Snape and the A12 at Blythburgh remained closed to traffic on Friday afternoon.