Council spends £30,000 on closed Spa Pavilion theatre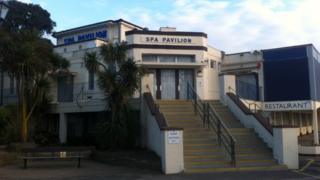 A council has been criticised for spending £30,000 on a theatre which closed after the authority withdrew its funding.
The Spa Pavilion closed in January 2013 after owners Suffolk Coastal District Council said it could no longer afford to pay £250,000 a year.
The council said money spent since then would help "ensure a future" for the Spa, which is on Felixstowe's seafront.
But opponents of the closure say they are "angry" about the expenditure.
Suzie Lowe, who organised shows at the theatre, said: "It's really frustrating and makes me quite angry.
"People weren't asking for the subsidy, they were saying 'let's take the theatre, we don't want your money, but let's keep it ticking over - let's try to make some money'."
The council said about £20,000 had been spent on marketing the theatre and £10,000 on "maintaining the facility".
'Bulldozer' option
Lisa Hardy, of the Spa Pavilion Associates, who had tried to take over the running of the theatre, said: "Probably £15,000 of that could have put on a good summer season, so the building wasn't just sat there.
"At least from early July to early September it could have been generating revenue, which then would have allowed a pantomime season."
But Councillor Geoff Holdcroft, cabinet member for leisure, stood by the decision to close the theatre while new owners were sought.
"Considering the amount of money we were spending keeping it running, we couldn't afford to carry on," he said.
"Thirty-thousand pounds is perhaps a small amount of money for this council to pay to try and ensure a future.
"If we hadn't spent that sort of money it would have rapidly deteriorated and there would be no opportunity for anybody to go in there."
He said the theatre was being kept in a "fit state" so it was "ready to go" for new owners.
But he admitted that it was still a strong possibility that the theatre could be knocked down if an owner could not be found.
"I'd like to find a use for the building but if we can't find some other use it might have to be bulldozed and some other structure put up in its place," he said.