Orfordness lighthouse sandbag plan opposed by National Trust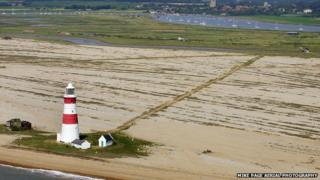 The owner of an unused lighthouse that sits on land owned by the National Trust has accused the charity of being "high-handed" by opposing his plan to protect it with sandbags.
Orfordness Lighthouse, which is on eroding coastline, was decommissioned in June and the National Trust intends to let it fall into the sea.
Nicholas Gold said it needs protecting so that artefacts can be recovered.
The trust said the proposal would be ineffective and could damage habitat.
Mr Gold, 62, who lives in Orford, bought the decommissioned building from operators Trinity House for £2,000 in September.
The lighthouse is 35ft (11m) from the edge of the waist-high eroding cliff above a shingle beach and Mr Gold wants to remove and preserve the lighthouse optics, lantern and 100ft high stone staircase.
'Not fragile'
The owner said a 140ft-long (42m) 'roll' of builders' bags filled with shingle and gravel would protect the site from the sea and give more time for demolition to take place.
"I don't want it to be taken by the sea and the sandbags will give a short time for the ordered recovery of the key features," he said.
"The National Trust is being high-handed in refusing to meet the desires of local people.
"The habitat around the lighthouse is just grass, rabbit holes and rubble - it is not fragile by any means."
The National Trust owns Orford Ness which is a 10 mile-long (16km) spit of vegetated shingle and a Site of Special Scientific Interest. The lighthouse was built in 1792.
A spokesperson for the charity said: "We feel that any attempts to defend the lighthouse where it stands would either be unsuccessful or cause unacceptable damage to what is a fragile habitat of international importance.
"Removing and preserving key historical artefacts from inside the lighthouse must be a priority and we were working with Trinity House on their work to begin this process.
"We will continue to work with Mr Gold wherever possible and wish to maintain a productive relationship."
Mr Gold is to submit a planning application to Suffolk Coastal District Council to build the sandbag protection.