Stena ferry jump: Search called off for missing pair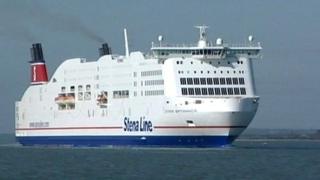 A search has been called off for two people thought to have jumped from a ferry.
The pair went overboard from the Stena Britannica ferry, a mile off Harwich, at about 09:45 GMT.
A police helicopter, RAF search and rescue helicopter, and coastguard teams searched the Suffolk and Essex coast before being stood down at 13:30.
BBC correspondent Anna Holligan said two Albanians being deported from the UK jumped overboard.
The ship was sailing from Harwich to the Hook of Holland. Ninety-two passengers had been aboard the vessel, along with 81 crew.
Our correspondent said the ferry had since docked at the Hook of Holland after being allowed to continue its journey and Dutch border police had boarded the vessel.
She added that disembarked passengers told her they had witnessed about eight Albanians being escorted on to the ship before it set off and officials had confiscated their passports.
A Stena Line spokeswoman in the Netherlands said a number of passengers had been refused entry into the UK, so were sent back to the Netherlands where they originally departed from.
She said the company would not comment on the identity of the missing passengers and any immigration issue was the responsibility of the UK and Dutch border controls.
She said the company did "everything it can" to ensure Stena ferries were not used by people trying to gain illegal entry into the UK.
The Home Office has declined to comment.
The Maritime and Coastguard Agency said two people went into the water about a mile off Harwich, but a thorough search of the area had found nothing.
Stewart Oxley, spokesman for Walton and Frinton RNLI, said the search took place between Landguard Point, Felixstowe, and the mouth of the River Deben.
He said the tide had been going out at a speed of three to four knots in a north-easterly direction shortly after the two people entered the water.
"There were no signs of anybody and nobody has been recovered," he said.
Piers Stanbury, watch officer for Thames Coastguard, said it had been a complex search.
"At the end we actually had 21 different units working on the search," he said.
"We had found some clothing in the water which would indicate we were in the right area.
"We absolutely saturated the area with search units. If someone had been swimming or floating in that area we would have found them."