Sudbury butcher's dead animal window display reinstated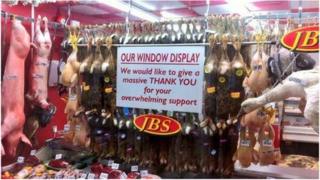 A butcher who removed a display of dead animals from his Suffolk shop window due to complaints has put it back up.
JBS Family Butchers in Sudbury took down the display after people said they would stop using other nearby shops.
But one week later, the carcasses are back after the shop received "overwhelming support", assistant manager Richard Nicholson, 25, said.
"Businesses have told us we bring shoppers in, so now hopefully we can go back to being butchers," he said.
The shop, in the Borehamgate shopping centre, had displayed dead animals in its window for several years before two letters published in the Suffolk Free Press prompted their removal last week.
One writer referred to the "needless display of multiple mutilated carcasses" and said it could frighten children.
After a claim that shoppers would boycott other businesses, Mr Nicholson said: "We pulled it out because we have to get on with the people in the precinct."
The story was widely reported and a thread on BBC Radio 2's Facebook page prompted more than 1,600 comments.
The shop's display of seasonal produce was reinstated earlier and includes half a pig, a goose and six hares.
One passer-by described it as "absolutely magnificent" and called the complaints "ridiculous".
"If people don't like it they can walk another way round," she added.
Mr Nicholson said: "We've had such a positive response from all over the country and the world.
"It's been a little bit overwhelming, but the public has decided that it goes back in, so it's back in."
He added the incident had shown "that the country seems to like the traditional butchers and that the game and things we hang in the window aren't such a bad thing".