St Edmund martyr painting recreated by 100 artists in Suffolk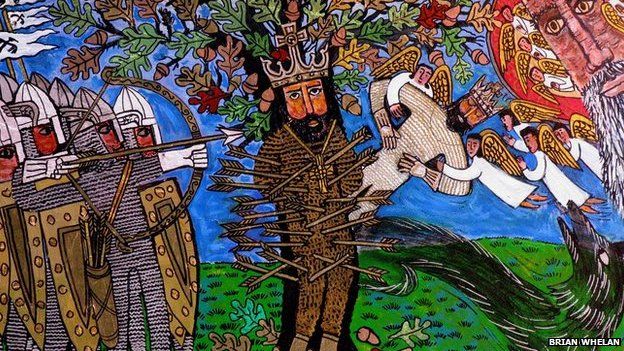 A painting depicting the death of St Edmund, the former King of East Anglia, is being recreated by about 100 people in Suffolk over the weekend.
Artist Tina McCallan is running the project at Wingfield Barns, near Eye.
The recreated work is based on Brian Whelan's painting The Martyrdom of St Edmund, which hangs in the cathedral in Bury St Edmunds.
Participants will be given a square of canvas to paint. Once complete, the new version will be displayed in churches.
The project was commissioned by David Streeter, a retired vicar from Stradbroke, to celebrate the 100th anniversary of the Diocese of St Edmundsbury, of which St Edmund is the patron.
Ms McCallan has carried out a number of public recreations of other works of art at places including the National Gallery, Glastonbury Festival and a Lincolnshire pizza factory.
Mr Whelan's original painting depicts Edmund, who is believed to have been elected King of the East Angles in 855 AD, and was beheaded by the invading Danes in about 870 AD after refusing to denounce Christ.
It was completed in 2004.
'No experience necessary'
Ms McCallan hopes up to 100 artists and members of the public will help paint a new version. No experience of painting was necessary, she stressed.
"I grid out the canvas and then copy the image into that. It's a little like the way the Old Masters worked," she said.
"About three or four people can work at the same time.
"Occasionally we get a bit of nudging and smudging, but people are generally very aware that others are working in close proximity.
"The project allows the community to create their own masterpiece... demolishing the idea that art is something elitist and inaccessible."
Related Internet Links
The BBC is not responsible for the content of external sites.