HMP Blundeston closure report: Watchdog challenges cost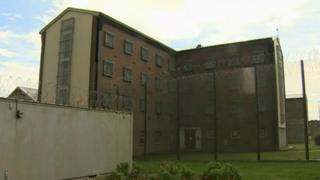 A watchdog has challenged the decision to close a Suffolk prison on cost grounds, as £10m had been invested in modernisation in its last three years.
HMP Blundeston near Lowestoft was closed because of future maintenance costs, the government said.
An Independent Monitoring Board report said money had been lost on staff redundancy and recent upgrading.
The Prison Service said it needed lower-cost accommodation, but ministers would consider the report.
Peter Aldous, Conservative MP for Waveney, had earlier called for a full report into the closure, but this request had been refused by the Prison Service.
The Independent Monitoring Board criticised "the treatment of loyal prison staff".
The new governor and deputy were given only three weeks to complete the closure, the report said.
"But is was handled with great care, empathy and integrity," the board said.
The reason given for closure was the long-term maintenance costs, "however it should be pointed out £10m had already been spent in the three years before closure on new heating and roofs", said the report.
It said there had also been a large investment in a new laundry to be shared with a number of eastern region prisons.
"So many millions of pounds had been spent in recent times which now have no value at all," the board said.
A Prison Service spokesperson said: "We need a modern, fit for purpose estate, which provides prison accommodation at a much lower cost to the taxpayer, and in the right places.
"The decision to close HMP Blundeston was made following a thorough assessment by senior managers in the National Offender Management Service.
"It was based on a range of factors, including the suitability of the accommodation.
"This report will now be considered fully by ministers, who will respond in due course."