Orwell High School reunion 'out of control'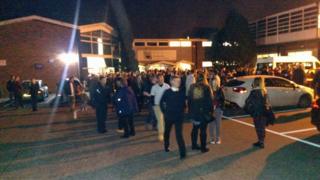 Police and the fire service had to be called to a school reunion, which one former pupil said got "out of control".
Current and former students were invited to the event at Orwell High School, Felixstowe, which is being demolished and replaced by an academy.
Graffiti was written on walls and the fire alarm was set off, possibly by people smoking in the toilets.
Although Orwell's old buildings are being knocked down, some are still being used while new ones are built.
The school is merging with Deben High to form Felixstowe Academy.
Bosses at the new academy said a "small minority" of people ruined the reunion night.
Jaimielee Rendall, who left Orwell High School in 2005 and now works for BBC Radio Suffolk, said most people were well behaved but some had been drinking since mid-afternoon.
"I've heard various stories that people were walking around drunk and didn't know what they were doing," she said.
"A few of the walls had graffiti on them, which is a shame because children now have to go to school this morning with their school emblazoned with graffiti.
"It's sad it got out of control."
Felixstowe Academy said "hundreds of people" had attended the event to look at archive material and meet with former teachers and school friends.
"Unfortunately the evening had to be brought to a close earlier than planned due to health and safety concerns," the academy said in a statement.
"Sadly a very small minority of adult visitors took it upon themselves to smoke within the building and write graffiti on the walls, causing vandalism to an operating school."
'Criminal damage'
One caller to BBC Radio Suffolk, who said he attended the school in 1957, claimed there were not enough staff to cope with the popularity of the event.
"There were so many people ignoring the fire alarm that it was hard for the staff to do anything," he said.
Suffolk Police said it was called to the school at about 19:00 GMT, initially to deal with reports of parking issues.
Officers arrived after the fire alarm was set off and found incidents of vandalism.
A spokesman said the force was looking to speak with a named suspect in relation to causing criminal damage.
A similar "legacy" event planned for Deben High School has been cancelled.