Thatched house destroyed in Battisford fire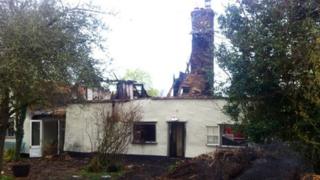 A fire has destroyed a thatched house in Suffolk.
High winds raised the intensity of the blaze in Battisford, near Stowmarket, the fire service said, and crews were staying on site in case it reignited.
About 60 firefighters tackled flames at the house in Battisford near Stowmarket for four hours on Thursday night.
Electric power cut off in the surrounding area by the fire has been restored but the Salvation Army was called in to support local residents.
A fire service spokesman said strong winds fanned the flames making putting them out difficult and this led to the damage.
Although the fire was out by 21:00 GMT a number of crews remained at the scene overnight and into the morning.
It is not thought that anyone was hurt in the fire and an investigation will be carried out to identify how it started, the spokesman said.
Neighbours helped the house owners to recover some of the belongings before the fire, which started in the thatched roof, had time to take hold.