Beyton village geese population restored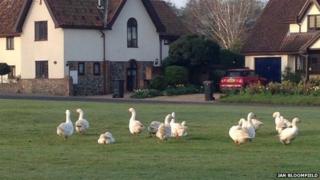 A village has seen its traditional flock of geese on its green boosted after numbers dropped from about 30 to one last year.
Beyton Parish Council, in Suffolk, said the geese lived on the green for about 40 years but numbers declined with old age, car accidents and a dog attack.
Last year, 75% of 500 villagers voted to restore the population.
The remaining bird produced four chicks and 10 other geese were brought it to restore the population to 15.
The Emden geese were originally domesticated farm birds which got on to the green and settled there with the help of villagers who fed them.
The geese feature on the Beyton village sign.
'Huge response'
Last year, four were left, but two were killed by cars and one was killed by a dog.
The surviving bird had already mated and when it was found sitting on eggs, the bird and its nest were moved to a safe place until its chicks hatched.
That brood was introduced to the new 10 geese and all the birds have now been returned to the green.
Roger Wyartt, council vice chairman, said: "After the vote we had a huge response and donations to bring more geese in.
"They've been on the green for a week and they seem perfectly happy there.
"The village is very happy to see them, as are people from outside the village."