'World's fattest man' Paul Mason faces US surgery delay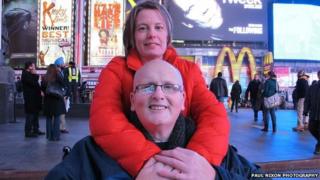 A man once known as the fattest in the world has had to postpone an operation in the United States due to spending time in jail in the 1980s.
Paul Mason, of Ipswich, used to weigh 70 stone (440kg) but is now 22 stone (140kg) after gastric band surgery.
A New York surgeon offered to remove his excess skin, which could shed a further seven stone (44kg).
But Mr Mason said his visa application had been delayed due to his conviction for fraud in 1986.
The former postman, 53, spent six months in Norwich Prison for the offence.
"It's a big kick in the teeth," Mr Mason said.
He flew to the US in December to spend Christmas with Rebecca Mountain, who had met him online and proposed to him in January during filming for a television programme.
He also met Dr Jennifer Capla in New York, saying he would return to the US for surgery once he had arranged his medical visa.
Mr Mason said he did not declare he had been arrested when applying for the first visa, as he thought it was not relevant after 10 years, but disclosed it on a subsequent form.
He said he was told at an interview at the American Embassy in London last month that the application would have to go to Homeland Security in the US, which could take up to eight months.
"It's disappointing," he said.
"The surgeon was getting her team together; I was looking forward to being with Rebecca again and having the surgery done.
"But that's all put on hold."