Death of toddler recorded as accidental by coroner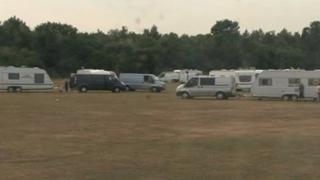 A toddler died accidentally when he was hit by a van in a field being used by travellers, a coroner has concluded.
Ryan Ward, who was 20 months old, was injured on 23 July in an accident at Lovetofts Drive in Ipswich.
He was taken in the van he had been struck by to Landmark House police station where he died.
A post-mortem examination showed that Ryan, who was from County Down, Northern Ireland, died from head injuries.
Condolences sent
The inquest was told the van driver, Edward Stokes, was driving away after collecting his children when he felt a bump and heard screams.
He stopped to discover what had happened and after Ryan's mother Rosie Ward came out they drove the child to the police station for help.
PC Jeff Crib, from Suffolk Police's collisions unit, said there was no indication from his investigation that the driver was at fault or that high speeds were involved.
Suffolk coroner Dr Peter Dean recorded a verdict of accidental death and sent his condolences to Ryan's family.
Up to 40 caravans had been based at the field at the time of the accident, but they have since left.