Ed Sheeran eBay clothes auction raises £1,500 for charity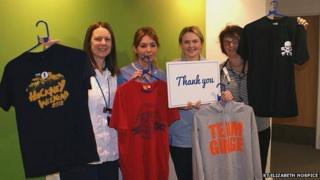 An eBay auction of clothes once worn by global music star Ed Sheeran has raised nearly £1,500 for a Suffolk charity.
A bag of 17 items was handed to the St Elizabeth Hospice shop in Framlingham, where the singer-songwriter grew up, by his family last month.
One of the star lots was a onesie that sold for more than £300.
On the charity's Facebook page, a spokeswoman thanked everyone for their bids, adding the money would help it continue to care for local people.
Bags containing more of Sheeran's clothes have been given to other charities in the area, with some selling them via eBay or through their shops.