Norfolk/Suffolk police control room merger: PCC's alternative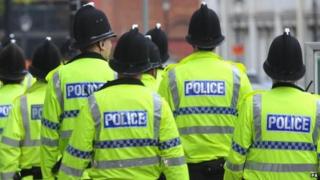 Suffolk's police and crime commissioner (PCC) has suggested creating one control room for all of the county's emergency services.
The idea comes as Norfolk and Suffolk police forces consider a proposal to share one control room.
Tim Passmore, Suffolk PCC, said: "There is no need to rush in to a police control room merger and we need to consider other possibilities."
He said he had put the idea to the Home Office which was considering it.
Norfolk and Suffolk's police forces and PCCs are considering a plan to use Norfolk's existing control room at Wymondham for both constabularies.
It is claimed the move would save Norfolk £973,918 and Suffolk £870,567 a year, with the loss of about 70 jobs.
'Biggest decision'
Mr Passmore has previously criticised a report outlining the business case for the merger, but Stephen Bett, Norfolk's PCC, has backed the idea.
"The police control room merger is one of the biggest decisions I've had to make while in public office and we've got time to get it right," said Mr Passmore.
He said the joint control room could initially include police, fire, ambulance and coastguard.
Suffolk and Cambridgeshire fire brigades have shared a control room based in Huntingdon, Cambridgeshire since 2011.
The East of England Ambulance Service NHS Trust has control rooms in Norwich, Bedford and Chelmsford and said it was not yet part of any discussions about a single joint emergency control room in Suffolk.
The Home Office said it was considering a number of control room merger options across the country.