Suffolk Bronze Age axe and ring hoard 'undervalued'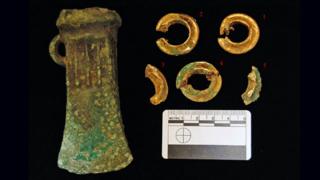 A man who found a Bronze Age axe and four gold rings in Suffolk is disappointed with their £550 valuation.
Steven Walker discovered them in a field near Lowestoft in 2011 and estimated they were worth about £6,200.
He said the official valuation process was flawed and it would not encourage people to hand in treasure rather than sell it on the black market.
The government's Treasure Valuation Committee (TVC) said £550 was a fair price based on independent advice.
The 'Near North Cove Hoard' featured a hollow axe head containing three whole 'lock rings' and two fragments of what was believed to be a broken fourth ring.
Mr Walker said lock rings had not been valued on the open market recently, which made it hard to put a price on them, but he was expecting about £2,000 for each of the two undamaged ones and £350 for the axe head.
'Best ever find'
He said the TVC's valuation was based on an invalid comparison with the more common 'ring money' or 'penannular rings' and he was backed by the Suffolk Archaeological Service which said "no valuation should be attempted or acceptable if based on 'ring-money' prices".
Mr Walker said: "I've been metal-detecting for 15 years and this was my best ever find and my experience does not inspire confidence in the official valuation process.
"Unless changes are made, people aren't going to donate their treasure finds to the nation."
A spokesman for the TVC said: "In all cases the TVC is informed by an independent expert and bases its valuation on that and on any independent valuation submitted by the finder.
"It can only work with the information it has and aims to achieve a fair market value."
Mr Walker, who is a painter and decorator, said he could not afford to pay for his own expert valuation or challenge the TVC decision in court.
His appeal to the Department for Culture, Media and Sport failed as the £550 valuation was backed by the Culture Minister Ed Vaizey.
Mr Walker said he would have to accept the £550 from the British Museum, which has been in possession of the hoard since he handed it in.