Russell Capon killed by 'childhood friend' Jason Miller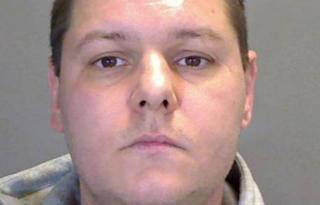 A man killed his childhood friend in a "savage, sustained and brutal attack" after a drinking session at a flat.
Russell Capon, 37, was stabbed ten times with a kitchen knife at the Ipswich home of Jason Miller last June.
Miller, 38, of Saturn Road, who admitted manslaughter on the grounds of diminished responsibility at Ipswich Crown Court, was detained indefinitely.
The court heard Mr Capon was drinking at the flat with Miller and his girlfriend, who was stabbed in the leg.
Miller, who has a history of schizophrenia and drug use, was detained under the Mental Health Act at a secure hospital.
Judge David Goodin, sentencing, said: "The existence of your illness over some years ... and this savage, sustained and brutal attack means any release would be a question for a special tribunal [under section 41 of the Mental Health Act]."
Mr Capon, of Ramsgate Drive, Ipswich, was stabbed in the neck, chest and leg.
Miller's counsel said his client's mental health problems meant he had delusions, paranoia and heard voices telling him to commit violent acts.
Shared bed
The court heard Mr Capon had visited Miller and the two of them and Miller's partner Eve Stokes had spent the evening of 12 June listening to music and drinking.
The three had ended up sharing a bed in the one-bedroom flat, but Miller had gone to sleep on the sofa later in the night.
Neighbours told police they heard arguing, but the court heard Ms Stokes had no recollection of what had happened before the stabbing.
In her statement to police she said Miller had said "look what I've done - he's my best friend" and handed the knife to her, which she threw out of the flat.
Miller admitted assault after Ms Stokes received a single stab wound to her leg.
Mr Capon's family said: "Losing a loved one is the hardest thing in life, but to suddenly have someone ripped from your life is traumatic, no words could ever explain the emotions that surge through you on a daily basis and only time will slowly heal."
Det Insp Kevin Hayward said the case was "particularly tragic" because the two men had been friends.