Squirrel found 'nesting' on sheep in Suffolk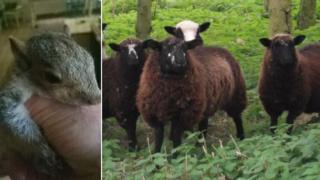 A baby squirrel was found "nesting" in the thick woollen fleece of a sheep in Suffolk, its owner said.
The squirrel was in the neck area of a domesticated Herdwick sheep in Capel St Mary, near Ipswich.
The sheep's owner took the squirrel kitten to the Wildlives rescue centre at Thorrington near Colchester.
Centre owner Rosie Catford said: "We've had a lot of young squirrels in, but we've never heard of anything like this."
'Something moved'
Liz Dilworth, a primary school teacher in Stratford St Mary, said she found the squirrel when she was checking the collar of her sheep Max.
"Something moved in the wool on his neck," she said.
"I thought it was rat and stepped back, but took another look and saw it was a squirrel.
"It was a cold evening and it had obviously come out of a nest and that was the only place it could find to snuggle in and try and get warm.
"Max has got a very thick fleece and he didn't mind in the slightest."
The squirrel, a female, was believed to be about eight weeks old, which is the age the youngsters are abandoned by their mothers to fend for themselves.
Ms Catford said: "We've heard of young 'kits' running up people's trouser legs when they've been out walking, but this is a new one on us.
"This squirrel is doing well at our centre and is in with 11 others."
Wildlives said it would look after the new arrival for up to three months.