Opening date set for new A11 Elveden bypass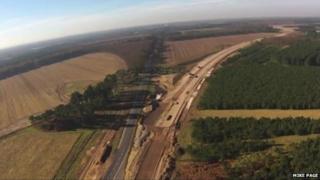 Part of the upgraded A11 will open on Monday, the Highways Agency has said.
The Elveden bypass was due to open by Easter but was delayed due to "driver safety".
On Monday, one lane will open in each direction. A 40mph (64km/h) speed limit will be in place between Chalk Hall Farm and near to the Thetford roundabout.
The bypass is part of a multimillion-pound development which is due to be completed by December.