Prime Lettings: No assets in collapsed holiday firm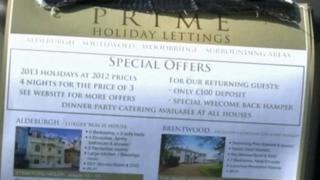 More than 220 people and businesses owed thousands of pounds by a holiday lettings company have been told there are no assets in the firm.
Prime Holiday Lettings went into voluntary liquidation last month, leaving debts of more than £500,000.
Creditors were told at a meeting on Thursday that they would not get their money back on bookings for the company's luxury Suffolk properties.
Director Sheila Moore said she had no warning the bank was calling in loans.
She told the BBC: "I have not misled anybody.
"I ran a very successful business and there was never any intention for it to happen.
"It happened as a surprise to me as well as to everybody else and I have apologised to them [company's creditors]."
The properties - estimated to be worth several million pounds - were owned by her husband Richard Moore, a vice-president of Ipswich Town Football Club.
Mrs Moore said he had not been in arrears on the loans.
Several creditors had contacted the BBC, including Jean and Jim Foreman, who had booked a £1,500 hen party in Aldeburgh for their daughter.
She reported Prime Lettings to police.
Suffolk Police told the BBC it had several lines of inquiry and was working with the company's liquidators.