Speedway champion Michael Lee rape trial: Alleged victim breaks down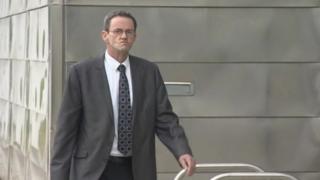 A woman who alleges she was raped by a former speedway world champion has broken down in tears in the witness box at his trial.
Michael Lee, 55, of Worlington, Suffolk, denies raping and assaulting the woman in 2012.
The woman has told the jury at Ipswich Crown Court that Mr Lee was "shouting and hollering" before the assault which took place in the toilet at a house.
The woman said she was injured after falling between the toilet and a wall.
She appeared in court behind a screen so that she could not be seen from the dock or public gallery, but was visible to prosecuting counsel, judge and jury.
'Sex was consensual'
She told the court that Mr Lee had pulled her hair, put a bag over her head and said to her that: "I had to be punished. I thought he was going to kill me."
The court has heard that the rape took place after the assault and she was later treated in hospital for an injury to her hand.
The defendant also denies two sexual assaults against another woman at a party in 2011.
The court has already heard that the defendant told police that the sex was consensual and the allegations were fabrications.
Mr Lee was speedway individual world champion in 1980 and rode for teams including King's Lynn, Poole and Boston.
The trial is expected to last about 10 days.