Magna Carta: Bury St Edmunds displays original copy of document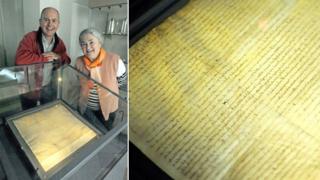 An 800-year-old copy of one of the most important documents in English history has been brought to Suffolk for the first time since it was written.
One of the four surviving copies of the 1215 Magna Carta has gone on display at Bury St Edmunds cathedral.
A group of barons met in Bury in 1214 as part of their campaign to limit the power of King John, and the agreement was sealed a year later.
The document is covered by a £30m government insurance policy.
Bury St Edmunds is one of several towns and cities with links to the Magna Carta, which was sealed at Runnymede in Surrey with copies made and kept at cathedrals.
The project leaders in Bury St Edmunds had been working for three years to arrange a loan of Lincoln Cathedral's copy.
Alan Baxter, the Magna Carta project manager in Bury, said: "As far as we know, this is the first time there has ever been a copy of the Magna Carta in Bury since it was sealed in 1215, which is extraordinary considering the town's connections with it.
"It's very delicate and 800 years old, so needs to avoid light, temperature and humidity.
"The insurance is covered by the Government Indemnity Scheme, so we haven't had to pay for it here in the town."
Margaret Charlesworth, chairman of the Magna Carta 800 Committee for Bury St Edmunds, said: "After all the hoops we had to jump through, when it was actually here and meticulously unwrapped it was just a fantastic moment and I got emotional.
"It has to be dimly-lit, it's written in medieval Latin and it's just a piece of paper so it might not look like much, but the workshop that's going with it is something that will stick in people's memories."
The Magna Carta is on display at the cathedral's Discovery Centre until the end of May.