Dunwich Heath plea to Dartford warbler photographers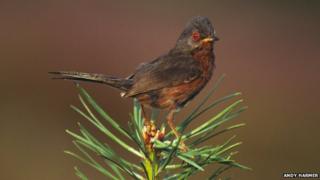 Inconsiderate users of a Suffolk heath are harming a protected species of bird, the National Trust has said.
People have been seen straying from footpaths at Dunwich Heath and disturbing breeding grounds of Dartford warblers. Some have been using recordings to lure the birds out.
Senior ranger Richard Gilbert said a leaflet had been produced, asking people to act responsibly.
"If the birds are distracted they are not successful in breeding," he said.
"The main issue is when the photographers are walking off paths and into the nesting habitat, the heather where Dartford warblers are breeding, and causing potential damage to eggs, nests or nestlings."
Mr Gilbert said he decided to produce a "code of conduct" for all users of the site.
"It asks them to stay on the footpaths, not to linger for too long in one period and don't use tape lures," he said.
"Tape luring is becoming more of a problem because people can download birds apps on their phones very easily."
Mr Gilbert said there were about 20 pairs of Dartford warblers at Dunwich Heath.
They do not migrate for the winter, so run the risk of starving during severe frosts when insects and spiders cannot be found.