Knickers bunting village: Stansfield in socks plea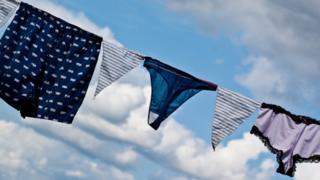 A Suffolk village which has used residents' knickers and underpants as bunting for its fete is looking to use single socks this year.
Stansfield, near Haverhill, used donated underwear in 2009 as a cheaper alternative to buying normal bunting.
The socks will be used to decorate the village hall area on 19 July.
Fay Grindley, village hall treasurer, said: "Everyone seems to have stray single socks which mysteriously lose their partners in the wash."
The organisers of the 2009 fete decided they did not want to spend money on traditional ready-made bunting and the knickers and underpants idea originated during a meeting at the local pub.
Since then they have used unwanted CDs and DVDs in 2010 and made pennants using photos of the 100 homes in the parish for the Queen's Diamond Jubilee in 2012.
'Clean obviously'
Ms Grindley said: "Our novelty bunting has become something of a tradition since the knickers and we've been scratching our heads for a way to follow it up.
"Someone suggested socks, so we have launched an appeal asking people to donate their old, odd socks - clean obviously.
"Garlands of socks maybe doesn't sound as eye-catching as knicker bunting, but we thought it was still quirky enough and should publicise the village fete quite nicely."
The bunting around the village hall is usually about 30ft (10m) and the village has about 250 residents.