Southwold Police could move into King's Head pub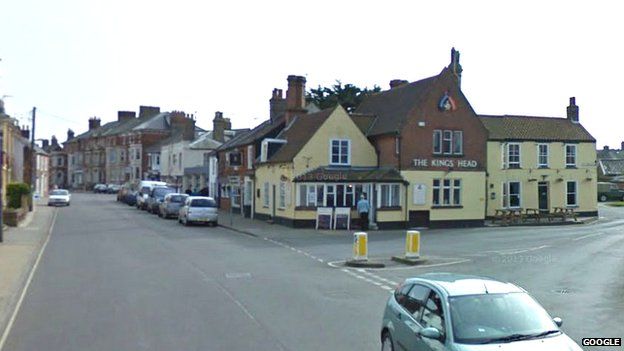 Moving a Suffolk police station into a former pub represents "good value for taxpayers", according to the county's police and crime commissioner.
Talks are taking place between owners Adnams and the police about the future of the King's Head in Southwold.
The pub closed last year and Southwold Town Council is backing proposals to turn it into a community building.
The commissioner said talks were advanced and a community hub could also provide a base for the library.
Adnams, the brewer which is based in Southwold, closed the pub on the High Street in August.
Suffolk Police confirmed they were looking to find a long-term replacement for the police station on Station Road.
Tim Passmore, Suffolk Police and Crime Commissioner, said: "The existing police station is much larger than we require and not good value for taxpayers when we need to make savings across the force.
"If we can do a deal with Adnams to buy the pub, then we wouldn't necessarily need to sell the existing police station site immediately because property retains its value in Southwold."
Mr Passmore said the existing police station could be sold as part of a package including the neighbouring disused fire station, which would be attractive to property developers.
Southwold Town Council said it had been involved in talks for several months and was acting as an "enabler".
Suffolk Libraries, which runs Southwold Library on North Green, said it was looking for larger premises.
Related Internet Links
The BBC is not responsible for the content of external sites.