Speedway champion Michael Lee cleared of rape and sex assaults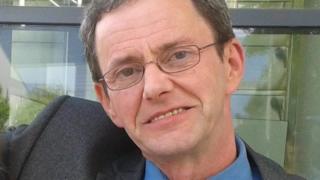 A former speedway world champion has said he feels "exhausted, emotional and relieved" after being cleared of rape and sexual assault.
Michael Lee, 55, of Worlington, Suffolk, denied raping and assaulting one woman in 2012.
Mr Lee, world champion in 1980, also pleaded not guilty to two sexual assaults on another woman in 2011.
After being being found not guilty at Ipswich Crown Court, he said: "I can't remember the last time I slept."
'Justice done'
Mr Lee rode for teams including King's Lynn, Poole and Boston.
Speaking outside the court, he said: "It's been 15 months of sheer hell and it's had a big impact on my life.
"I feel exhausted, emotional and relieved - I feel pleased justice has been done and I can get back on with my life again.
"A lot of people have supported me and I can't thank them enough.
"Everyone who knows me knows I'm not the person I've been portrayed to be."
A jury found him not guilty of one sexual assault on Thursday and then the remaining counts on Friday.
Mr Lee had been a co-promoter of the Mildenhall Fen Tigers until last season and remains a shareholder in the club.
He said he would be at the club's National League Knockout Cup meeting at home to Cradley on Sunday.