HMS Ganges Association fraudster ordered to repay £1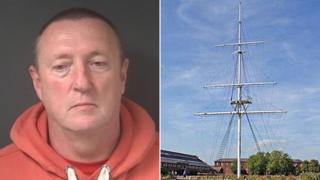 Members of a veterans association are "angry" after their former treasurer who defrauded the group of more than £40,000 was ordered to repay just £1.
The money was taken from the HMS Ganges Association, which is for people who served at the former Royal Navy training base at Shotley Gate, Suffolk.
Martin Foster, 55, of Uxbridge, was jailed for 18 months at Portsmouth Crown Court last year.
The £1 repayment has been ordered at a proceeds of crime hearing at the court.
An inquiry was conducted by Hampshire Police after debit card transactions of £4,200 and cash machine withdrawals totalling £74,000 were made from the association's bank accounts between August 2010 and June 2012.
'Pie-in-the-sky'
Foster, of Haig Road, admitted two charges of fraud by abuse of position and was jailed in September.
The proceeds of crime hearing at Portsmouth Crown Court ruled that Foster had benefitted by £43,895.
The court heard Foster only had £1 in funds available and he was told to repay this within seven days.
If he had access to greater funds he could be ordered to make further repayments.
John "Shep" Woolley, chairman of the 2,800-member association, said: "The membership is very angry he stole the money from a bunch of old sailors and they won't be very happy with the fact that he's only got to pay a pound.
"If he ever wins the lottery he'll have to pay more - but that's pie in the sky.
"The finances have not recovered and they certainly won't recover for another four or five years, although we have got a working amount in the bank account."
HMS Ganges was an on-shore training base near Ipswich which opened in 1905 and has been derelict since its closure in 1976.
It was famous for the 142ft (43m) mast on the parade ground which recruits had to climb.