US World War Two machine gun found at former airbase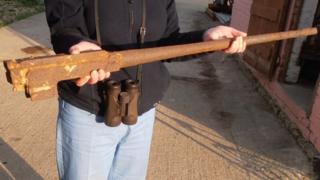 A gun from a WW2 B-17 Flying Fortress has been found on farmland in Suffolk.
Local farmer Michael Buckmaster, said he found the Browning machine gun while dredging his pond earlier this year at Rattlesden near Stowmarket.
If a licence is granted under the Protection of Military Remains Act 1986 so he can move the item from the area, he hopes it may be shown in schools.
The Eighth in the East heritage project said it could be used to teach children about the "impact" of the Americans.
The project has been given £575,000 by the Heritage Lottery Fund to look at the cultural and social legacy left by the 28,000 US personnel who were based at 70 airfields across East Anglia.
Annie Sommazzi, learning officer for the project, said: "There is still a wealth of artefacts out there undiscovered and many that have been discovered, but landowners don't realise the value of the finds because they are relatively recent in terms of archaeology.
"This is the sort of artefact we could take into schools to teach children about the impact the Americans had in their local area."
Mr Buckmaster said several planes crashed at RAF Rattlesden in February 1945.
"We've found several items over the years including a bit of undercarriage when I was digging a ditch," he said.
"You wouldn't recognise it as a Browning machine gun unless you knew what you were looking for as it's solid rust on the outside and I don't know how much metal is left underneath.
"I'm more than happy for the Eighth in the East project to borrow it for schools."
Nick Patrick, project director of the Eighth in the East, said: "Our work is all about the social and landscape history of the Americans in East Anglia during the Second World War.
"However, if a school wants us to bring this gun in we are more than happy to discuss it with them."