Ipswich Borough Council held by Labour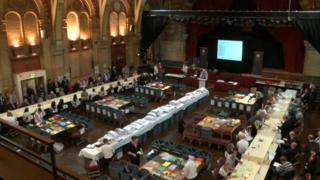 Labour has held on to power in Ipswich following the local council elections on Thursday.
A third of seats at Ipswich Borough Council were up for grabs, which was the only council to hold elections in Suffolk.
Labour gained two seats from the Conservatives.
Voting also took place for the European Parliament's East of England constituency. Counting will take place on Sunday night.
Ipswich Borough Council is now made up of 35 Labour seats, 10 Conservative and three Lib Dem.
Lib Dem councillor Inga Lockington held on to her seat and polled more votes than any other candidate in the borough.
She said her party was "clearly paying a price" for being part of a government which helped "bail out the country four years ago".
Ipswich's Conservative MP Ben Gummer, was at the count in the town's Corn Exchange and said there was "some cause of optimism" for his party.
"Our excellent candidates are being rewarded," he said. "Where we've got very hard working councillors, they are being returned.
"People are respecting good work."
But David Ellesmere, leader of Ipswich Borough Council and Labour's parliamentary candidate, said the Conservatives should be "very worried" about how they will fair in next year's General Election.
"Their vote has absolutely collapsed since 2010," he said.
"If you add up all the votes across the constituency, Labour is about 11% ahead of the Conservatives."